The next morning, September 17, we got up in the middle of night (at least according to the younger participants) to catch the 8:50 tunnel train. One car had already left to catch the ferry, but we could still enjoy the lavish breakfast ....... not ........ according to those preferring a full English breakfast off course. Anyway, we had our pains au chocolat and café au lait and took some freshly baked croissants with us, when we left the hotel to transfer to the Chunnel entrance together with 3 of the other participants and even managed to catch an earlier train.
The lady at the customs desk got all excited: "Oh! She is a Bristol !!!"
She could easily have auditioned for the Lynley murder series. And what a surprise she will have today, when Bristol after Bristol will pass her desk.
When we left the Chunnel train, fortunately the loudspeakers instructed us to drive on the left, thus avoiding a major disaster ..... The journey went smoothly, although we succeeded to misread the first instructions of the proposed itinerary and found ourselves amidst the marshlands south of the "suggested" route. Nevertheless, we enjoyed the excellent weather while driving through the beautiful landscape with the rolling hills, cosy cottages and farms. We could barely restrain ourselves from stopping at all the signs promising fresh free-range eggs, vegetables and fruits. On our way towards Langrish House, our lunch venue, we picked up another Bristol car, which had been waiting for us to pass; the anticipated lavish lunch kept us going. Fortunately we did not see more serious things than two decapitated hedgehogs. Crossing our road were some other beautiful classic cars (no Bristols, though) on their way to the Goodwood Revival Festival.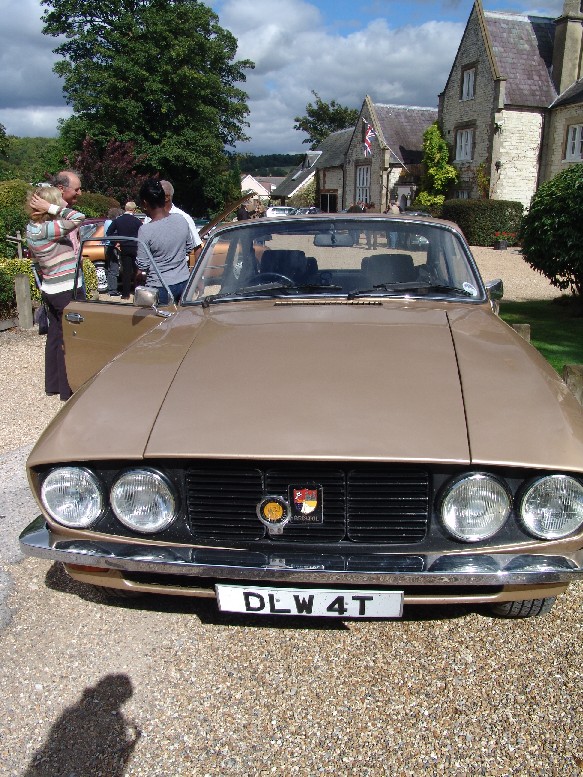 We arrived at Langrish House to meet up with more Bristol cars and were greeted by their eager owners. We started off with a glass of champagne (again) and were frolicking around the cars, followed by an ample buffet lunch, which was enjoyed by all. The food was good, the company pleasant and the cars excellent. Nothing else one could wish for on a sunny Friday afternoon; however …… we had to leave for our final stretch towards Bristol